What is a Whole School Approach?
'A whole school approach to mental health is a culture that is built upon empathy, relationships and evidence-based practice. The practices are embedded within the curriculum, policies and procedures across the whole school. They are inclusive and flexible to support and respond to the school community's mental health needs.'
- Dr Asha Patel, Clinical Psychologist and CEO at Innovating Minds (2020).
A whole school approach to mental health is widely discussed across the education sector, and as the new school terms begins, it is the perfect time to understand this topic in greater depth.
The NHS and other external services are currently stretched far beyond their capacity which results in extensive wait times to be seen, so it is no surprise that this is having a detrimental impact on people's physical and mental health.

The Mental Health Green Paper has acknowledged the importance of the role which schools can play; schools can be bridging the gap between education and specialist services whereby they are the interim support for the children and young people who need it.
Public Health England (PHE) have developed and published the 8 key principles of the Whole School Approach, and Department for Education (DFE) are promoting the importance of staff and children's mental health.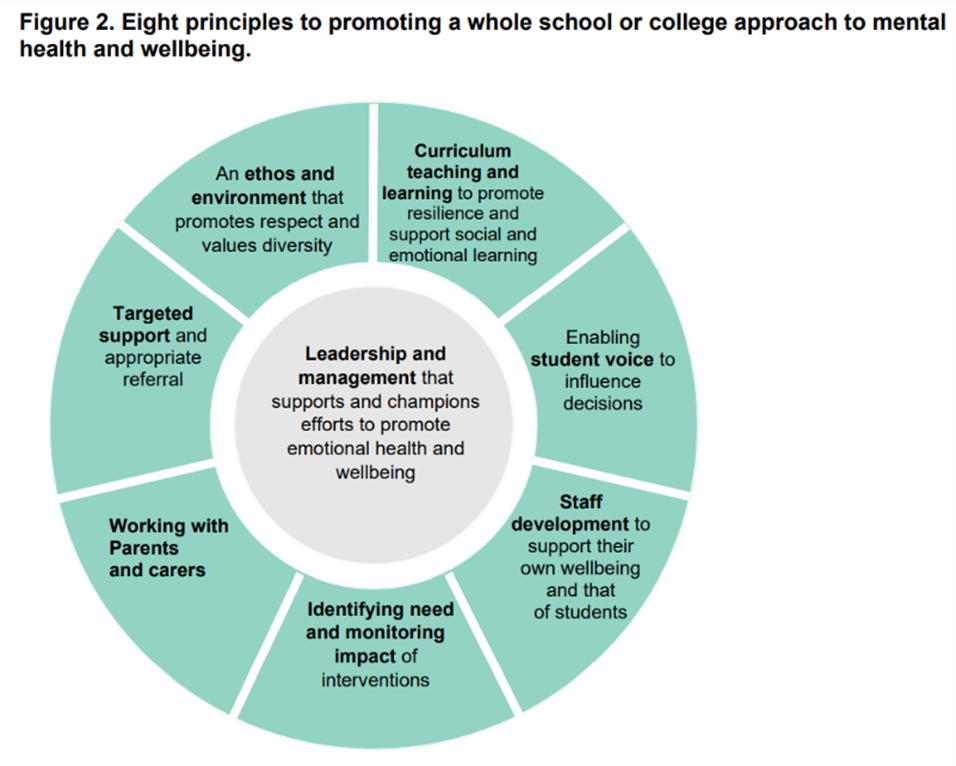 EduPod
At Innovating Minds, EduPod was created. EduPod, acknowledged by Ofsted, was created by pulling together the 8 key principles (as outlined above), clinical expertise and our work with over 120 schools. It is the software which enables all mental health leads to plan, manage and evaluate their journey to creating mentally healthy environments for the whole school community. It enables schools to access professional mental health resources, action pans and input from experts at Innovating Minds.
EduPod has comprised the above 8 principles into five core ones which are briefly explained below:
Readiness & Motivation – This refers to the need for commitment from the school and being wholeheartedly onboard with implementing a whole school mental health strategy.
Leadership & Strategy – Once the school has a clear vision and strategy, this must be communicated to everyone within the school community to engage them and get the 'buy-in' from them.
Working Together – Implementing a whole school approach really does mean working with the whole school and working collaboratively together to develop, enhance and review the whole school approach to mental health and wellbeing.
Staff Support & Development – Being aware of the importance of staff emotional wellbeing because looking after one's own mental health is imperative as it gives you the capacity to support others with mental health difficulties. This principle also refers to offering staff the training required and giving them the knowledge and understanding about what mental health is.
Student Support – Reviewing and evaluating the systems to ensure that children and young people's emotion and mental health needs are being met.
Senior Mental Health Leads Training
At Innovating Minds, we offer DfE assured Senior Mental Health Leads Training from beginners' level to advanced course, as well as our newly established online self-paced training programme.
The Department for Education (DfE) has announced further grant funding where they are offering £1,200 for eligible state funded schools and colleges in England to train a senior mental health lead. This is a part of the government's commitment to offer this training to all eligible schools and colleges by 2025.
To find out more about what the whole school approach to mental health means for you and your school/college, or for details on how to apply for the senior mental health leads training, click here.
Alternatively, tune into our webinar here (available on demand from Tuesday 6th September) where Tanya Birch, Interventions Support Officer will be discussing in greater detail what the whole school approach is and how we can support you on your journey to creating a mentally healthy school environment.
Help, Resources and Further Information:
https://www.myedupod.com/?hsLang=en
https://www.gov.uk/guidance/senior-mental-health-lead-training
https://assets.publishing.service.gov.uk/government/uploads/system/uploads/attachment_data/file/1020249/Promoting_children_and_young_people_s_mental_health_and_wellbeing.pdf