CONGRATULATIONS

We are delighted to inform you that your school has achieved the 'Committed' accreditation. This demonstrates that your school has made a significant commitment to investing in the whole school's mental health.

This is a great achievement, and we are extremely proud to be working with you.
Receiving this email from Innovating Minds was a great way to end the term. In the year of Covid19 and against all odds, we decided to focus on the mental health and wellbeing agenda more than ever. We are by no means where we want to be but by getting the Committed accreditation, after the second lockdown, at least ensures our focus and trajectory is right when it comes to building a whole school culture of mental health and wellbeing.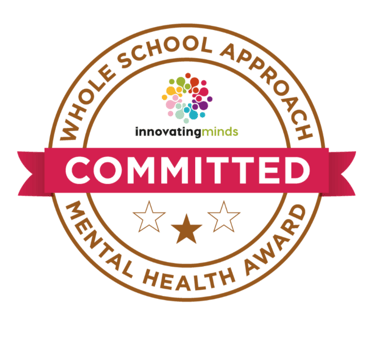 Our school closed the term by having completed our mental health and wellbeing surveys which were sent out to all the key stakeholders: Students, Governors, Parents/Carers and Staff.

Based on the results we will then be able to make informed decisions about what all key stakeholders need, and this will be compiled in an action plan which Innovating Minds', EduPod platform, will generate.
Watch this space!
But as I write the final blog for 2020, I feel it would be remiss of me not to focus on staff wellbeing – a schools' greatest resource.
Firstly, I want to say - What incredible champions you have all been. It has been great to see positive praise for our profession from the DFE and various Media institutions. Long may this continue – valuing and praising our profession.

However, it has come at a price and the latest
Teacher Wellbeing index 2020
makes for alarming reading
Research for the 2020 Teacher Wellbeing Index took place during the Coronavirus (Covid-19) lockdown. The main findings are:
1. Stress levels remain high
Nearly two-thirds (62%) of education professionals described themselves as stressed. Senior leaders experienced the highest levels of stress (77%). One major factor was long working hours, with 70% of senior leaders working more than 51 hours a week.
2. Increase in symptoms of poor wellbeing
Education professionals displayed much higher levels of depression (32%) than the general population (19%)
They also reported large increases in
symptoms such as:
difficulty concentrating;
insomnia;
tearfulness.
3. High workload is a key factor influencing staff retention
52% of education professionals (59% of senior leaders) had considered leaving the profession due to pressures on their health and wellbeing. The main reason given by 68% of education professionals was the volume of workload (76% by senior leaders).
4. The barriers to reaching out for help remain
More than half (57%) of education professionals do not feel they can share mental health issues or unmanageable stress with their employer. Their main concerns are:
they might be perceived negatively;
it would be seen as a sign of weakness;
the stigma and shame around suffering from mental
health issues.
It is vital that staff feel they can communicate any issues or problems, yet access to supervision, or safe spaces to discuss issues remains extremely low at 8%.
5. Mental health support varies between educational institutions
There was a large variation in the wellbeing support offered to staff by schools and colleges.
53% of education professionals said they do not receive sufficient guidance about their mental health and wellbeing at work – while this is down from 69% in 2019, it is still far too high.
6. The wellbeing of UK education professionals is consistently lower than the general population
The overall wellbeing score (WEMWBS score) for education professionals in the UK remains significantly lower than the score for the general population, and is consistent with 2019 levels .
In 2021 we need to ensure that on the school development plan - leadership teams focus on student mental wellbeing whilst simultaneously focusing on the needs of all their staff.
The workload of teachers is a recognised national issue and if we are to improve the staff retention and recruitment crisis then engaging in the survey research offered by the EduPod platform will help you hear the different voices of your staff on issues of their mental wellbeing.
The DFE has made great strides in showing its commitment to reducing teacher workload and produced a paper that details what the government is doing to reduce unnecessary workload for teachers and in July 2018 published a Workload reduction toolkit. This provides support for schools with a range of materials to help review and streamline workload through solution-focused and collaborative discussions.
https://www.gov.uk/guidance/reducing-workload-in-your-school
It is essential that we not only tackle the workload issue, which is a huge contributor, but also the culture of management in our schools and the related stigma attached about staff admitting that their own mental wellbeing is reaching a crisis point.
Ignoring that the problem exists is the worst thing a school can do.
Schools need to recognise that staff who have mental wellbeing challenges should feel as supported as those with physical challenges. Unfortunately, there still exists the stigma that if they are not coping it is a weakness of the individual as opposed to looking at the system, the expectations, the workload. It is ironic that it is often middle and senior leaders who crumble under pressure and when they cite their mental wellbeing as concerning the reply is often – this is what comes with being a middle/senior manager.
There is a better way to respond
Just engaging in the process of issuing the questionnaire shows that you are listening and this process of collecting in the responses is part of the process of being prepared to provide an environment which prioritises support with staff mental wellbeing.
We intend to issue the same survey at the end of the year to monitor progress and to guide future policy making ensuring the environment supports staff mental wellbeing.
As a follow-up to the survey I would encourage:
staff to be invited to form a focus group to help analyse the results and feedback to the leadership team coming up with action plans and strategies for change: this helps ensure the collective 'staff voice' is properly represented and it does not slip into the 'blaming game' and the leadership team being accused of being selective about how they read into the results. Some call this group a staff wellbeing action group.
We must pay more than lip service to making all school staff feel valued. They are a school's currency. Invest wisely in their wellbeing and you will reap the benefits. This month, I have tried to offer practical advice for school leaders in a webinar which I presented for TES on How to roll out a successful staff wellbeing programme for 2021
In a nutshell I have tried to highlight what we have learnt about staff wellbeing in this unprecedented year and talk about some practices we keep in 2021 and what we leave behind.
Finally, what 2020 proved was possible was that leadership teams really care about their
Staff:
The Mental health and wellbeing of colleagues was put high on the agenda and
staff were checking in with each other
the Pace adjusted as new initiatives were put on hold
and working conditions adjusted to support staff.
Ofsted took a backseat and we could all just focus on teaching and learning.
As we move into 2021, we need to ensure the focus on staff mental health and wellbeing remains a top priority, which will in turn ensure our pupils get the best possible education and pastoral support, whether it be live or remote as we continue to strive to deliver top quality education in the face of a global pandemic.
Wishing all the readers, a warm and special Christmas, and a blessed and healthy 2021. Stay safe.