5 Years ago, a handful of schools in the UK had a designated mental health lead (DMHL). By 2025 every school should have a DMHL, according to the Department for Education, Green Paper. It's a new role which on paper seems clear enough but in practice, as the role develops, it's revealing layers of complexities from organisational logistics to an enormous of amount of Mental health knowledge being needed to adequately support both staff and students - this requires an effective program of continuous CPD training
For the last 6 years, I've been working in the arena of mental health as the DMHL & DMHL Advisor & I can confidently say this is a standalone role which requires considerable time off timetable involving both strategies & initiatives decided at senior leadership level.
Because the role is a whole school approach (W.S.A.) it requires the DMHL to organise the data & process evidence showing progress and impact for SLT. As I said, it can be a complex leadership role which is why I was delighted when our school started using EduPod.
EduPod is a new way for mental health leads to plan, manage and evaluate their journey in creating that mentally healthy environment for the whole school community.
Yes, there is a charge, but this online platform offers the team: professional mental health resources & action plans to pre-generated surveys. The additional offer, which for me puts it above the rest, is the access to clinical consultation from their team of Clinical Psychologists and now also their online community forum allowing the DMHL to connect, share and support others working in educational & healthcare settings.
So where am I at halfway through the year?
I am currently preparing my school to cross the threshold for the next phase of accreditation to attain Achieving.

To gain the status of Achieving as a school you need to provide the evidence that the culture of positive mental health and pre-emptive interventions is evident in all areas of the school community from leadership and vision to student and staff support, to working with external agencies.
On the EduPod platform I am currently completing our Midyear audit which means I go back into reviewing the detail for
Mid-year School statistics

Readiness and motivation

Leadership and strategy

Working Together

Staff support and development.

Student Support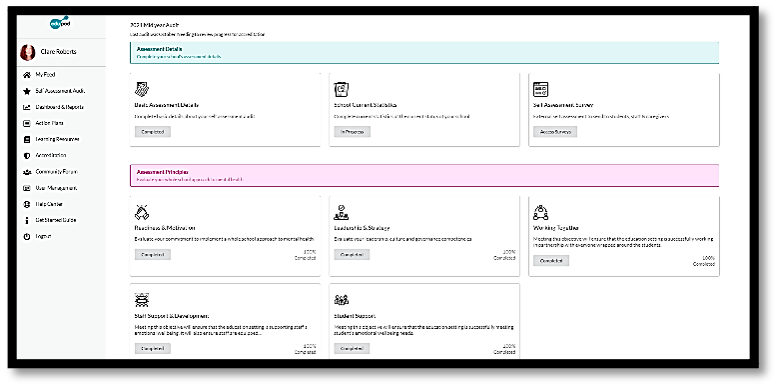 After the year of The Pandemic, the toll it's taken on staff is quite substantial, so I'm delighted that the additional evidence I am collating in the various sections is the commitment that staff workload is manageable, and that staff mental wellbeing is valued and that there is a program of support for Staff in our school.
There has been a real drive to:
Reduce late nights at school - by allowing Parents Evenings to happen virtually from teachers 'homes. This has been hugely beneficial to teachers with dependants allowing them to be at home straight after parents evening and not having to endure a late-night drive home.

Reduce after school meetings – if the meeting is about sharing of information, then we have moved to delivering pre-recorded ppts and videos which the staff can access in a pre-allotted window at a time which is convenient to them. Again, this flexi approach helps with teachers who have outside school commitments.

Reduce emails and streamline communication - by sending a 'virtual' SLT daily briefing each day (all SLT messages in one place as opposed to separate emails) and using MS teams technology to help set reminders and help with organisational elements of meeting the myriad of deadlines.

Developing a program of support for staff from self-referral to staff referral using the facilities of the Line Manager and Human resources manager.
This program of support has involved:
Destigmatising mental health and raising awareness that it is OK to not be OK and that there is no shame in talking about it. This has been delivered through Inset training on what the early signs are and encouraging the culture that it is ok to talk about it
Make available opportunities in the school for staff to have that first conversation about their mental health by ensuring on the agenda for every LM meeting is wellbeing and starting off with a sincere question - How are you?
Encouraging each Faculty to adopt a culture of care and to look out for the signs with their own colleagues and to check in with that person.
Conducting staff surveys during the lockdowns and preparing a 'You said: We did' response to show staff that the school leadership team is listening and working hard to support and change the working conditions to ensure a life/work balance
Encouraging secret buddy systems to ensure everyone is made to feel valued.
Making available the position of a Human Resources (HR) Manager on the staff body who staff can go to and disclose their personal problems which they are facing which might be resulting in mental health challenges. The HR is able to ask about what workplace triggers might affect them and what support/adjustments the school can put in place to support the employee
Signposting help for the colleague from Education Support Partnership[i] which offers information and counselling, plus a range of resources on managing stress for school and college staff.
Once I have finished the mid-year Audit, I will be going in to update the Accreditation application form. All of this can be found on the EduPod dashboard.
The EduPod Dashboard ensures that no stone is left unturned and helps the DMHL stay on track by ensuring the focus is kept on the key areas that matter.
When there is so much going on in a school, this organised platform for the DMHL is also a great resource for feeding back progress and impact to the leadership team and Governing body.
I hope that in my next blog, I will be sharing our next Achievement.
WATCH THIS SPACE!
Want help in getting started with your mental health strategy? Innovating Minds are offering FREE access to the EduPod Pro package for 1 month